The topic of product range management will traditionally be discussed on the first Day of Regional Retail within the framework of the business programme of the International exhibition HouseHold Expo.
On September 11 Ekaterina Buzukova will talk about one of the problems of working with product range "Non-liquid and surplus products: how to detect and get rid of them". Participants of the seminar will discuss the following topics:
• Deficit and surplus products – different effects of the same cause. Unbalanced pricing.
• Deficit – excess of demand over supply. Definition of deficit. Consequences of the "constant deficit" syndrome. Reasons for the occurrence of deficit and what to do. How to control.
• Definition of non-liquid and surplus products. Reasons for the occurrence of non-liquid and surplus products. The bullwhip effect. An example of the Law on non-liquid products (excerpt from the document). Ways of realizing non-liquid and surplus products.
• Results, Q&A.
Speaker: Ekaterina Buzukova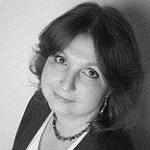 Ekaterina Buzukova – the leading Russian specialist in product range and category management. A practitioner with 15 years of experience in procurement and category management, author of bestsellers "Product range management. Category management", "Merchandising" and "Purchases and suppliers". During her 12-year consulting practice she worked with the biggest supermarket networks "Spar", "Azbuka Vkusa", "Alye Parusa", "Monetka", hypermarkets "Castorama", "HOFF!", petrol station networks "Lukoil", "Rosneft", companies "Komus", "Beiersdorf (Nivea)", manufacturing companies "Solnechnye Producty" (fat-and-oil plant), "Wimm Bill Dann", "Snezhnaya Koroleva", regional networks "Molniya", "Titan", "Chibbis", "Okey", bookshop network "Respublika", "Milavitsa" company, pharmacy networks, chain stores of household appliances and electronics, clothing and shoe chain stores and many others.
Implemented over 50 completed consulting projects and dozens of conferences.
Author and host of seminars on category management and retail technologies.
September 11 – 13, 2018, Moscow, Crocus Expo IEC, pavilion 2, halls 9, 10 and 11
Participation in the event is free after an on-line registration.
We are looking forward to seeing you at Household Expo, Stylish Home. Gifts и Christmas Box –
the biggest Russian B2B exhibitions of household goods and gifts!
Business programme producer
Galina Shevchenko, This email address is being protected from spambots. You need JavaScript enabled to view it.
+7 (910) 426-01-61, +7 (495) 363-50-32