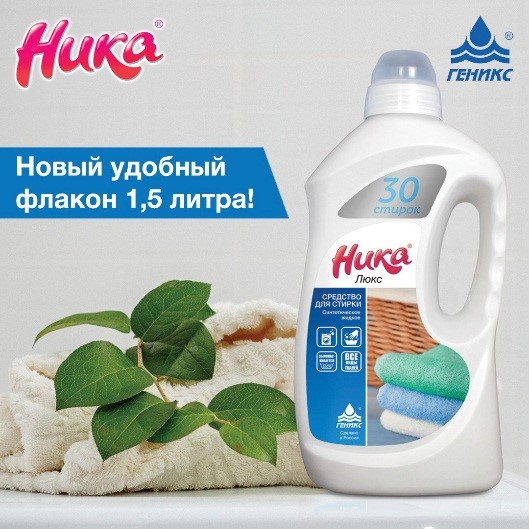 The company "NikaUral" is the official authorized representative selling products of LLC "Scientific and Production Company "Geniks". This year the company "NikaUral" has become a participant of the exhibition HouseHold Expo for the first time and will present detergents and disinfectants of the "Nika" series at its booth 11-А210.
Today the company has established itself as a successful and constantly developing company with subsidiaries in different cities.
Over the years of intense work, "NikaUral" has obtained a reputation and respect not only as a reliable supplier, but also as a popular brand which has gained recognition with a vast number consumers. Quite popular are not only the regular liquid soap for offices, but also disinfectants for hand and space sanitizing used in medicine.
"NikaUral" offers visitors of the exhibition:
Free delivery to the warehouse or to the terminal of the transport company;
The whole product range of the "Nika" series, including egg cleansing detergents, available from stock;
Help in choosing household chemistry for a specific enterprise;
The quickest delivery times (1-2 days).
We are waiting for you at our booth 11-А210 on March 27-29, 2018, IEC "Crocus Expo", pavilion 2!
Participation in the event is free after an on-line registration
The business programme is being constantly updated!
Moscow, IEC Crocus Expo, March 27-29, 2018
We are looking forward to seeing you at Household Expo, Stylish Home, Dacha Outdoor and Christmas Box. Podarki – the biggest Russian B2B exhibitions of household goods, goods for dacha and gifts!
Coordinator of the business programme
Galina Shevchenko, This email address is being protected from spambots. You need JavaScript enabled to view it.
+7 (910) 426-01-61, +7 (495) 363-50-32