HouseHold Expo is the best place to find partners in Russia
"We see that the business community treats our actions positively. Confidence and desire to invest into the Russian economy are growing, particularly from the foreign business side. Inflow of foreign direct investments into the non-finance sector amounted to $23 bln in three quarters of 2017. This is 2.5 times higher than in the like period of the last year and the all-time high figure in the last four years," Vladimir Putin (24/10/2017, TASS)
HouseHold Expo is the biggest exhibition of housewares in Russia
International exhibition HouseHold Expo is the only B2B exhibition on the territory of Russia which best represents the Russian market of housewares, goods for country life, gifts and interior objects. The exposition consists of such exhibitions as HouseHold Expo, Stylish Home, Christmas Box. Podarki and Dacha Outdoor.
The main goal of the exhibition is to fill the Russian consumer market with innovative and quality goods. In the autumn of 2017 the participants presented approximately 1 000 novelties to the Russian retail community. According to preliminary data, about 30% of exhibitors signed around 1500 contracts during the autumn exhibitions of 2017.
The exposition covers 20 000 sq.m. Each year over 700 companies from 16 countries take part in the exhibition, mainly – Russian and foreign manufacturers, wholesale companies and distributors.
The exhibition is attended by 16 000 professional visitors yearly, visitor geography comprises 45 countries (14% - CIS, 6% - other countries) and 81 regions of Russia (80%). Directors and business owners make up 38% of the total number of visitors, while 31% of visitors are category and purchasing managers.
Key sectors of the exhibition:
all kinds of tableware and table decorations
kitchen accessories and appliances
interior and lighting objects
goods for country life and outdoor leisure
household goods and chemicals
home textiles
gifts and souvenirs
home fragrances
The exhibitions take place twice a year (trends and novelties of the autumn-winter and spring-summer seasons are introduced). Such frequency results from the demand of suppliers and purchasing agents and is connected to the necessity of product range renewal.
Russian market
"Starting from May 2017, retail trade has been growing by more than one percent, primarily due to the growth of real wages. The increase in real wages in January-September was 2.5 percent." Vladimir Putin (24/10/2017, TASS)
Nowadays about 700 trade networks operate on the territory of Russia (including FMCG, DIY, Homelife). More than 400 retail and wholesale networks visit HouseHold Expo yearly. Their priority is the search of new goods and new suppliers. Among regular buyers are the top-10 Russian trade networks which overall share of the Russian retail market is over 25%: Magnit, X5 Retail Group, Auchan Retail Russia, Dixy Group, Lenta, Metro Group, OK Group, Globus, Monetka.
Apart from large federal networks, the exhibition is visited by regional grid and wholesale companies. Regional visitors make up 46% of the total number of Russian visitors. Over the past 3 years, more than 2500 representatives of networks operating in all regions of Russia visited the exhibition.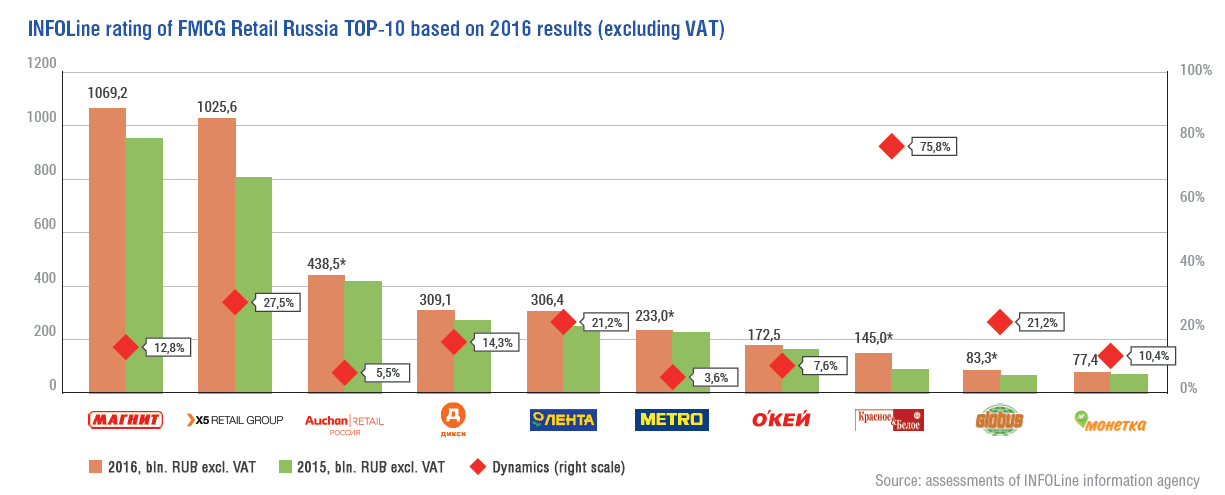 Key parameters of the market: according to the assessments of INFOLine information agency, the Russian retail housewares market reached 380 bln. RUB in 2016 (including VAT). The main sales channels are DIY networks, household networks (over 100 such retail networks operate on the Russian market), FMCG hypermarket chains which have been viewing housewares as one of the key categories in the Non-Food segment in the past three years, and single-price chain stores which are for now represented in Russia much less than in Europe or the USA, but which share is rapidly growing while the sensitivity of customers to price levels is increasing.
Opportunities for international participants
"The restorative growth period of the Russian economy is almost over. We expect that in general for the 2017 annual rate of GDP growth will be 1.8%." Elvira Nabiullina (16.11.2017, RIA Novosti)
Apart from the search of novelties, professional visitors are motivated to attend the exhibition in order to search for partners and cooperation opportunities to expand their business. According to a survey conducted at HouseHold Expo in autumn 2017, over 20% of visitors are interested in distribution of goods from abroad. Companies from India, Iran, Turkey, Germany, Egypt, Ukraine, Italy, China, Poland, the Czech Republic and many others have found their distributors in Russia at the exhibition.
As part of the participation package, HouseHold Expo organizers offer a special support program for foreign companies searching for partners in Russia. The program includes special distribution of the product catalog and (or) other information about the products, company and commercial offers to interested distributors, as well as organization of meetings with potential partners on the territory of the exhibition.
We invite companies who are interested in promoting their goods on the territory of Russia to cooperate with us. XXI international B2B exhibition HouseHold Expo is the best way to find distributors in Russia and to introduce your goods to Russian retailers.
Department of international sales
Maria Nikovskaya, This email address is being protected from spambots. You need JavaScript enabled to view it.
Daria Vyatchina, This email address is being protected from spambots. You need JavaScript enabled to view it.
www.hhexpo.ru